What is a drum circle?
A drum circle is an interactive drumming event where YOU create the rhythms. Rhythm is an innate part of life, and group drumming is way of expressing ourselves feeling a stronger sense of connection with each other.  See a video here.

Each drum circle has a brief "mini lesson" to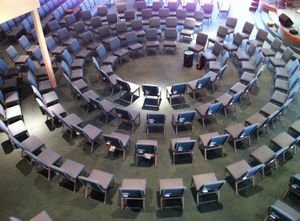 acquaint you with how to play the drum. It's easy, fun...and can be addicting!

For corporations, this is an effective team-building or "team-bonding" event. Drumming is a way to bring teams together to inspire a greater sense of unity and passion. Drum circles are also becoming a valuable part of employee wellness and mindfulness programs.


David DiLullo (www.DavidDiLullo.com) founded Global Drum Circles in 2005 to bring the joy and power of drumming to as many people as possible. He leads custom drumming events for companies and groups of all kinds.  David has led drum circles for Cisco, IBM, eBay, Genentech, Warner Bros. Records, Intel, Yahoo!, Gallo, YouTube and more.
 
If you would like to create a drumming event for your meeting, special occasion or seminar, please contact us.

See what people are saying about Global Drum Circles.
Partial Client List (see all clients)